Travel Smart.
Travel Safe.
Travel Now.
A Private Library of Tips, Tools & Resources for International Travelers.

International travel is amazing, awesome, beautiful and life-changing.  And it can be frustrating and overwhelming. This valuable library of travel resources is designed so that you can…
Travel Smart
Learn tips and tools to help you travel with ease. We don't want you to make the mistakes we made, or the one's we saw other travelers make.
Travel Safe
Safety is always a concern when embarking on the unknown. Make sure you know what you need to know before you go.
Learn from Travel Experts
Library content taught by travel experts Dan and Shyla, who traveled for 7 years and have been to 75 countries.
Access Anywhere
24x7 access. The library is optimized for smartphones, tablets, and computers.
Step-by-Step
Watch the videos. Click the links. Notes and other guides included.
Questions?
Not a problem. Log in and ask away.
For free access, contact your Travel Advisor or Tour Operator
Prepare for your trip of a lifetime
Exclusive access to expert experience and advice
Learn safe and smart ways to get money abroad
Where you can and can't use Credit Cards
The importance Travel Insurance, and coverage you really need
How not to fry your camera or smartphone
Want to use your phone abroad? Watch an 8-step guide to using your smartphone abroad?
How to travel with prescriptions
The smartphone apps used by Travel Experts
And so much more.  To see the entire library, click here.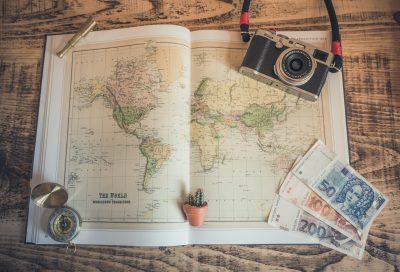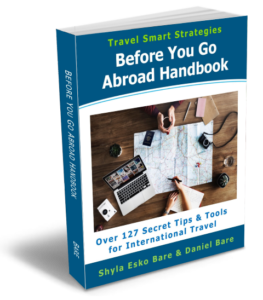 Before you Go Abroad Handbook
Book: $14.95
eBook: $5.99


Over 127 Secret Tips & Tools 
for International Travel
Does this book really have over 127 tips and tools for planning an international trip?
Well, let's just say we stopped counting at that number. You see, this little handbook is packed with over 127 insights, websites, and resources that are essential for any traveler planning to go abroad.
Are the tips and tools really secret?
Actually yes, they are secret—at least no one told us about them before we journeyed abroad and we had done a lot of research and preparation. We had to discover many of them the hard way as we traveled around the world to more than 70 countries. These are the secrets we wished we had found, in a concise and consolidated book like this one, before we went abroad.